Reunion Island in a few words
Reunion, born almost 3 million years ago, is a small French tropical island in the middle of the Indian Ocean.
Take an atlas and go down the East Coast of Africa as far as Mozambique: you will see the Island of Madagascar, and 500 miles further to the east, the Island of Reunion.
In a very small space, Reunion has most of the types of landscape existing on our planet : lush green mountains, circular mountain amphitheatres, waterfalls, forests, high plateaux, sandy deserts, canyons and a volcano.
To enable you to explore them, the island has over 1000 kilometres of footpaths for walking, hiking and trekking, all in a very good condition. In addition, there is an incredible variety of sports you can practise.
The population of the island (780,000 inhabitants), of extraordinarily diverse origins, will give you a warm welcome, and all types of accommodation and catering are available : from the mountain cabin to the four-star hotel, from the roadside snack-bar to the luxury restaurant.
Finally, there is a rich and dynamic range of musical and cultural events : concerts, botanical gardens, creole estates or exhibitions.
Reunion Island offers a rich diversity of things to do : it's impossible to be bored here. Our role is to give you a professional selection of reliable information on this wonderful island. It's up to you to choose from then on.
Where is Reunion Island ?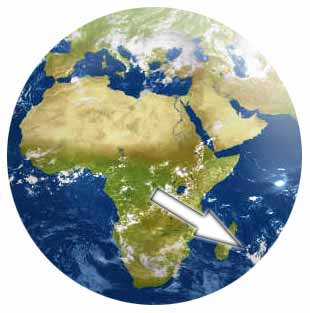 The local councils of Reunion